InstaForex wishes everyone a Merry Christmas and a Happy New Year!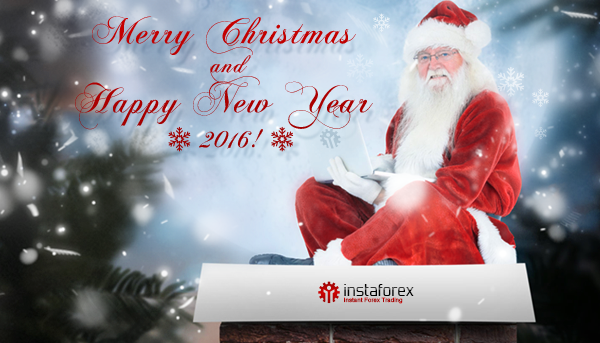 InstaForex broker international team sincerely wishes all clients, partners and friends a Merry Christmas and a Happy New Year! We hope this year was successful for you and brought you a lot of positive emotions. We believe the next year will be even happier and more successful for you and your loved ones.
The year 2015 was full of growth and new achievements for Company. This year the number of our clients increased greatly, which supports the chosen path of business development that we have stuck to since the beginning. As previous years, 2015 was the one to introduce new services appreciated by our traders from all over the world. Besides our clients, the company's achievements were recognized by independent experts within various financial awards and exhibitions.
We have achieved all this only due to you and our other clients. Only together we can conquer new heights each year. In its turn InstaForex Company promises to stay your faithful partner and assistant in the year 2016.
InstaForex team wishes you professional development, positive forecasts, favourable trend and considerable profit in the forthcoming year. Despite 2012 being the year of the Monkey, any trader knows each year is the year of the Bull and the Bear. Jokes aside, let good luck accompany you and let everyone around inspire you for big achievements.
New Year 2016 with InstaForex!